About project
What is
circular economy

and why is important to teach a new generations about it?

Since the Industrial Revolution, the economy has been developing according to the growth model – "mine-produce-consume-dispose". It is a linear model based on the assumption that natural resources are rich, available, easy to mine, and their disposal is cheap. Today we already know that the situation has significantly changed over past years, that it is no longer true and something has to be changed.

Circular economy and its essence are based on the principle where all product and material flows are involved in their cycle so that they become the resources for new products and services after their use. This means that there will be no waste anymore.

The systems of circular economy keep added value in the products as long as possible. They keep the sources in the economy after the product reached the end of its durability and so they can be productively used again, creating a new value.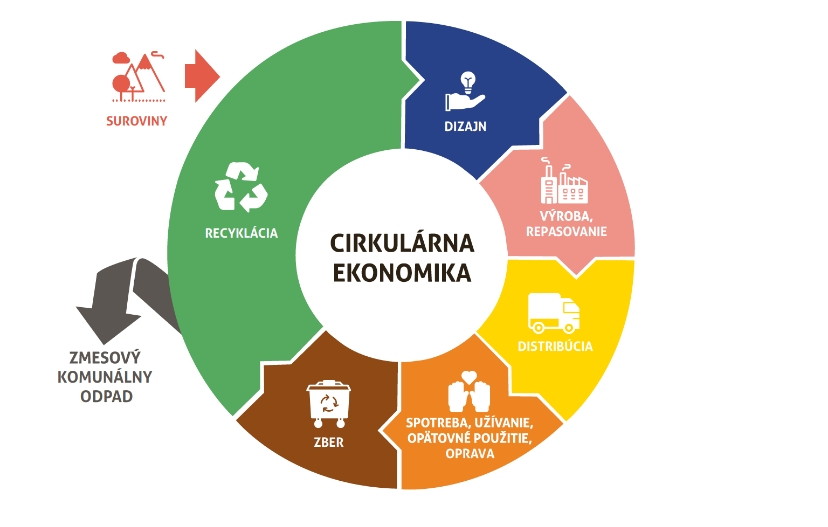 What does the project "Circle of Circular Economy" bring to schools?
The role of the project "Circle of Circular Economy" is to bring following principles to schools – to familiarize a new generations and show them how practical solutions work in everyday life. The objective is to show this system change to students not only in theoretical form, but to apply in practice and everyday life of school, students and teachers as many principles of circular economy as possible. The essential and visible step will be the decrease of mixed municipal waste by introducing separated waste collection and composting at school. The project also includes the cooperation of students from the Slovak Republic and Hungary. The result will be so-called "Circular Schools".
The project will also involve at least 40 secondary (or primary) schools. 20 schools will be from Slovakia (Region of Bratislava, Trnava, Nitra) and 20 schools from Hungary.
Educational activities will include lectures, workshops, or seminars for topics: Circular Economy – Waste as Source, Biodegradable Waste Management – Composting, Renewable Energy Resources, Water Management, Transportation, Clothing Industry, Green Buildings – Sustainable Buildings.
The part of the project are thematic events in which will always participate an action group of students from Slovak school and an action group of students from Hungarian school for the purpose of exchanging opinions and experiences. Students will be selected upon their interest in this issue. The program of the event will be customized to actual situation. For example, there will be themes, such as: Zone without Money / Bazaar, Excursion (incineration plant, composting plant, collection points, wastewater treatment plant, photovoltaic power station), Waste Analysis, Games – products of waste, poster drawing.
Teachers will be involved in the educational process, they will attend lectures and all associated activities. The objective is to integrate the topic of circular economy in the teaching process and functioning of school after the end of the project. Every school will receive a methodological manual and teaching aids for teaching, which will be able to run after the end of the project. This will allow the project to continue after its official ending.